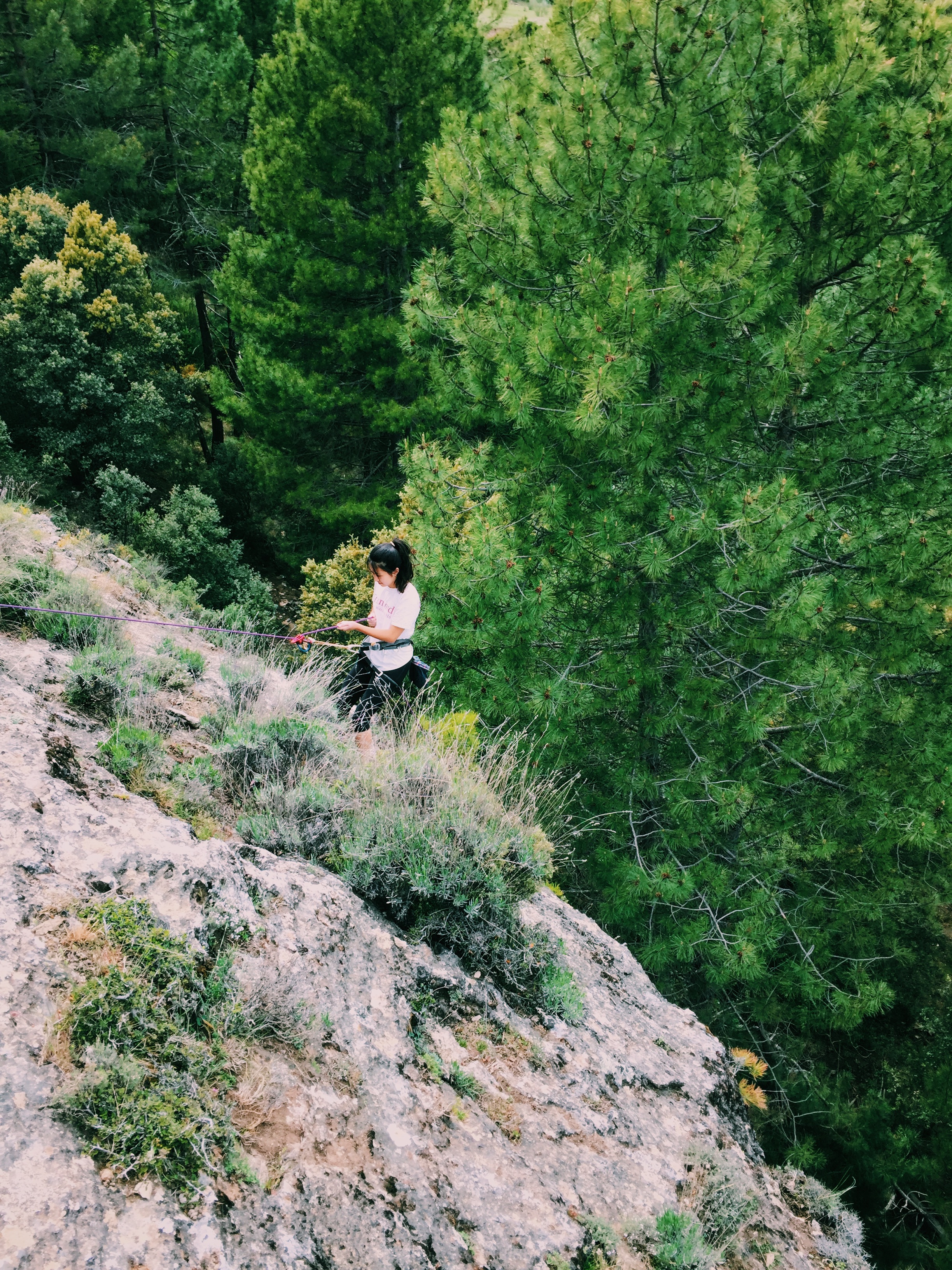 do something that makes you say: FUCK.
"CHOOSE A GOAL THAT MAKES YOU SAY, 'FUCK. I don't know if I'm gonna be able to do it.' Do a bike trip, a hiking trip—do some sort of trip or activity that you don't know if you can accomplish, because AFTER, YOU'LL GET THE BEST FEELING EVER." ~ STERLING D.
"Keep in mind that YOUR YEAR WILL HAVE BOTH HIGHS AND LOWS. You might end up crying every day for a whole month, and that's okay. Everyone says a gap year is amazing (and it is), but DON'T FEEL LIKE YOU'RE DOING THE WRONG THING JUST BECAUSE YOU DON'T LOVE IT at first. You won't love everything that you try, but try anyway. I GREW MOST from the HARDEST EXPERIENCES." ~ JIYOUNG J.
"PICK UP A HOBBY THAT'S PRODUCTIVE. I picked up knitting. Something to keep your mind busy. It is hard not being in school and not being in productive in [an academic] way for a whole year—and I think I really struggled with that during the first half of my gap year." ~ AESHNA C.
"IF YOU DO VOLUNTEERING, DON'T PAY [a program] for it." ~ TOM K.
"[For programs], make sure to do a lot of research, read the testimonials, and BE SURE THAT THE ORGANIZATION'S ACTIVITIES ALIGN WITH YOUR PERSONAL GOALS." ~ SAM B.
"This year is yours. This is your year to not have excuses to be unhappy. What you do this year is entirely up to you, and if you're doing something that makes you unhappy, that's kinda your fault. IF YOU'RE LIKE, I'M HERE, I'M NOT HAPPY, BUT I HAVE TO STAY--THAT'S NOT TRUE. LEAVE IT."
~ STERLING D.
"MAKING THE MOST OF YOUR ENVIRONMENT is very important. When I compare my first few months to my later months, one of the big differences is that during the later months, as opposed to just receiving everything that was handed to me by the State Department and what they had set up, I actually started seeking out my own opportunities and places in Beijing. Really FINDING THAT SELF-MOTIVATION TO DO THINGS, RATHER THAN FOLLOWING ALONG WITH WHATEVER'S LAID OUT IN FRONT OF YOU, is a really good way to surprise yourself and engage in what you are doing."
~ CLARA S.
"Though NOT AS GLAMOROUS as some experiences, WORKING AT TARGET WAS ONE OF THE MORE FORMATIVE THINGS I DID on my gap year. I met people from all walks of life, not just the upper-middle, upper-class kids I went to high school with. I grew so much as a person. I learned that the real world is a very different place - having to deal with (often rude) customers from all over. But, I made friends I will have for the rest of my life. Nothing creates friendships better than going through mutual annoyance - stocking the shelves and doing often tedious work." ~ RAVI E-M.
"CHALLENGE YOURSELF in other places besides the classroom. Life begins when you step OUT OF YOUR COMFORT ZONE; open your eyes and heart to what the world has to offer you!" ~ KATIE K.
"DON'T RELY ON A PROGRAM. I didn't partake in any gap year programs, and though independently planning everything felt daunting at times, having the liberty to take everything into my own hands was incredibly REWARDING and ENABLED A TON OF PERSONAL GROWTH." ~ JIYOUNG J.
"I'd definitely recommend taking on an internship that HAS NOTHING TO DO WITH WHAT YOU MIGHT WANT TO DO AS A PROFESSION later on. Use this time to LEARN learn about SOMETHING COMPLETELY NEW but really interesting!" ~ANONYMOUS
"In the beginning, sit down and MAKE A LIST OF THINGS YOU WANT TO DO. Then START TELLING PEOPLE YOU'RE GOING TO DO THEM. Then eventually you'll realize you're actually going to do them, and you'll buy a plane ticket and get on your way." ~ REIN
"If you want to travel (and need to finance it yourself) there is NO SHAME LIVING AT HOME AND PACKING IN MORE HOURS FROM A HIGH SCHOOL JOB! You save money by living at home, and you don't need to stress about finding a new job. You could potentially get a promotion because you've been working there longer, or even get a raise for taking on more responsibility." ~ ANONYMOUS
make a to-learn list. take things as you go.
"I MADE A TO-LEARN LIST of everything I wanted to learn on my gap year—like "I want to learn how to bicycle tour. I want to learn how to work with leather. I want to learn Spanish, etc." And for each item on the to-learn list, I thought about steps I would need to take to get to that goal. And then from there, I planned [my year]." ~ STERLING D.
"PEOPLE PLAN OUT THEIR WHOLE YEAR, and they do these guided gap year activities with programs and stuff—but I'd say YOU DON'T REALLY NEED THAT." ~ JAMES L.
"DON'T PLAN TOO MUCH! Sometimes the greatest gift of the gap year is giving yourself unplanned time and allowing yourself to come upon the right thing to do as you change. GIVE YOURSELF ROOM TO CHANGE! Definitely work a minimum wage job, try new things, go out of your comfort zone. It is natural to have some tough moments, especially when you see other people your age going to college while you may not have a clear idea of what you want to do. Taking a gap year was the greatest decision of my life, but I don't think of it as a "gap" year. It's not taking off time from anything or bridging a gap between one step and the next step. IT IS MAKING A CONSCIOUS DECISION NOT TO FOLLOW A PROGRAM IN LIFE but live your own way and it is just as real and just as much living as going to school would be, if not even more." ~ ZANNY M.
"I know it can be difficult, but plan as much as you can, as early as possible. But at the same time—be open to change something if you need to. IF SOMETHING DOESN'T GO THE WAY YOU EXPECT, THAT'S FINE. Just find another plan. You'll end up feeling bored sitting at home more quickly than you expect." ~ SAM B.
"TAKING THINGS AS YOU GO is probably better. I'd plan loose things—know which countries you wanna go to, what kind of things you wanna do there—but [if you have flexible plans], you can just stay at a place that makes you feel happy without feeling the pressure to leave."
~ HANNAH N.
"You DON'T NEED TO START OUT WITH A PLAN. The whole point is to figure it out from scratch, and learn how to exist without someone structuring your time for you." ~ ANONYMOUS
"PLAN IT OUT beforehand! Otherwise you will be sitting aroud while everyone else is at college wondering what the hell happened." ~ RAVI E-M.
" I had a lot of plans fall through at the last minute. This was really stressful for me because, as anyone visiting this website probably knows, the gap year possibilities are endless. I felt overwhelmed and thought I could never decide what to do, and follow through with it at the last minute. However, this actually ended up being a blessing in disguise because it allowed me to be a bit more spontaneous with my plans. For example I made the decision to go to Peru after working at the ski mountain, because I happened to become friends with some people from Lima. I think it's good to give yourself a bit of flexibility while planning your year because you never know what opportunities might come up." ~ NINA R.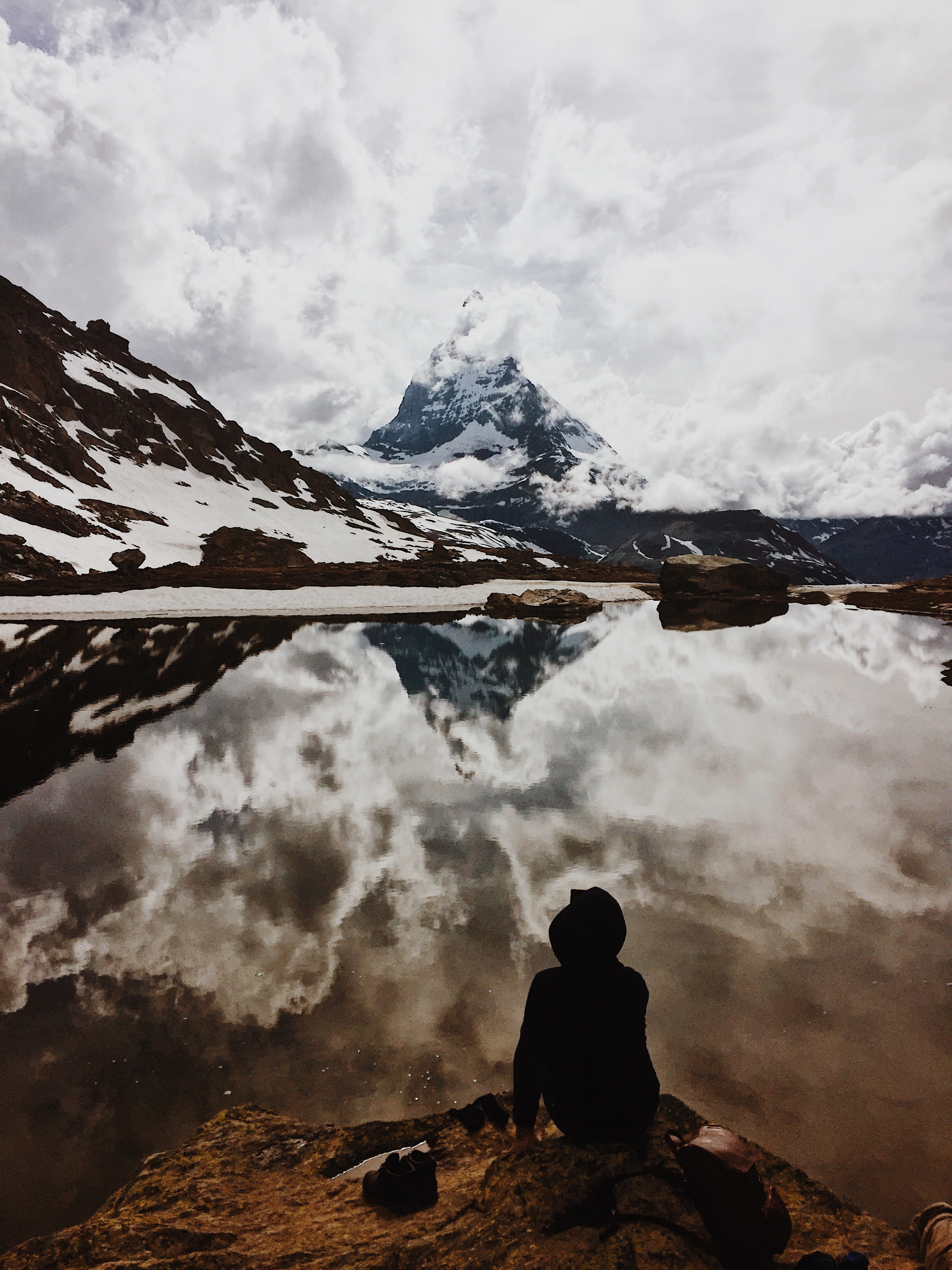 go by yourself (for at least a bit).
"DON'T BE AFRAID TO EXPLORE BY YOURSELF. Some of the most memorable parts of my gap year (and ones from which I grew most from) were times when I traveled to a new city or went hiking by myself. You get to MEET PEOPLE UNEXPECTEDLY, AND SURPRISE YOURSELF BY GOING ON NEW ADVENTURES. I took the above picture after a seven-hour long hike by myself, and it all happened because while wandering alone, I met some random dude who recommended that I hike instead of taking a train up the mountain to see the Matterhorn." ~ JIYOUNG J.
"GO PLACES WHERE PEOPLE DON'T OFTEN GO. I feel like that's where you're gonna find the most rewarding trips." ~ AESHNA C.
"BE CONSCIOUS OF WHAT YOU'RE DOING. Don't just go and get pissed somewhere. Places like Bangkok, for example—they are real cities that people don't just backpack to. Don't be really fucking dirty when you go to a mall, or whatever." ~ TOM K.
"WHEN IT GETS ROUGH and you're homesick, you just have to change your lens and NOT COMPARE YOUR EXPERIENCE TO ANYTHING ELSE." ~ CLARA S.
"For those who are comfortable with it, I would definitely RECOMMEND TRAVELING ALONE. It's a really good experience to form your own plans, carry them out, and get exactly what you want out of your travel experience." ~ SAM B.
"I would definitely say it's good to start off your gap year with maybe someone you know, or a group. It's a good way to ease into travel, especially if you haven't traveled a lot… But it's definitely important to SPEND A PART OF YOUR GAP YEAR ALONE, because you realize that you don't need that other person for comfort, and that there will be people wherever you go who will be willing to help you figure out whatever you need to figure out. You gain a lot of freedom, and it's also very reassuring to know that you can figure out things on your own. But I'd say it definitely gets lonely." ~HANNAH N.
"I think one of the better ways to develop yourself is by exposing yourself to different cultures and environments. Very often, this comes in the form of TRAVELING—ON YOUR OWN."
~ CLARA S.
"DON'T BE WEIRD ABOUT ASKING PEOPLE TO GO EAT FOOD TOGETHER. It's normal. Even if you literally JUST met them, be like, "I'm just gonna get some food later, and I was wondering if you want to come." You don't even have to be that elaborate. You could just say, "Wanna get dinner later?"
~ TOM K.
"It might be BETTER TO GO ON YOUR OWN. It might be scary at first, but I think you get more out of your year that way, since you're constantly pushing yourself to meet new people that you might have felt intimidated to speak to before. You also have just yourself to rely on, so you definitely become more independent." ~ ISABELLA B-J.
"LIVING WITH PEOPLE FROM THE COUNTRY YOU'RE IN really helps you learn a lot. Whereas if you're with other Americans, you're seeing it through their lens." ~ HANNAH N.
"Spend a bit of time BY YOURSELF." ~ TOM K.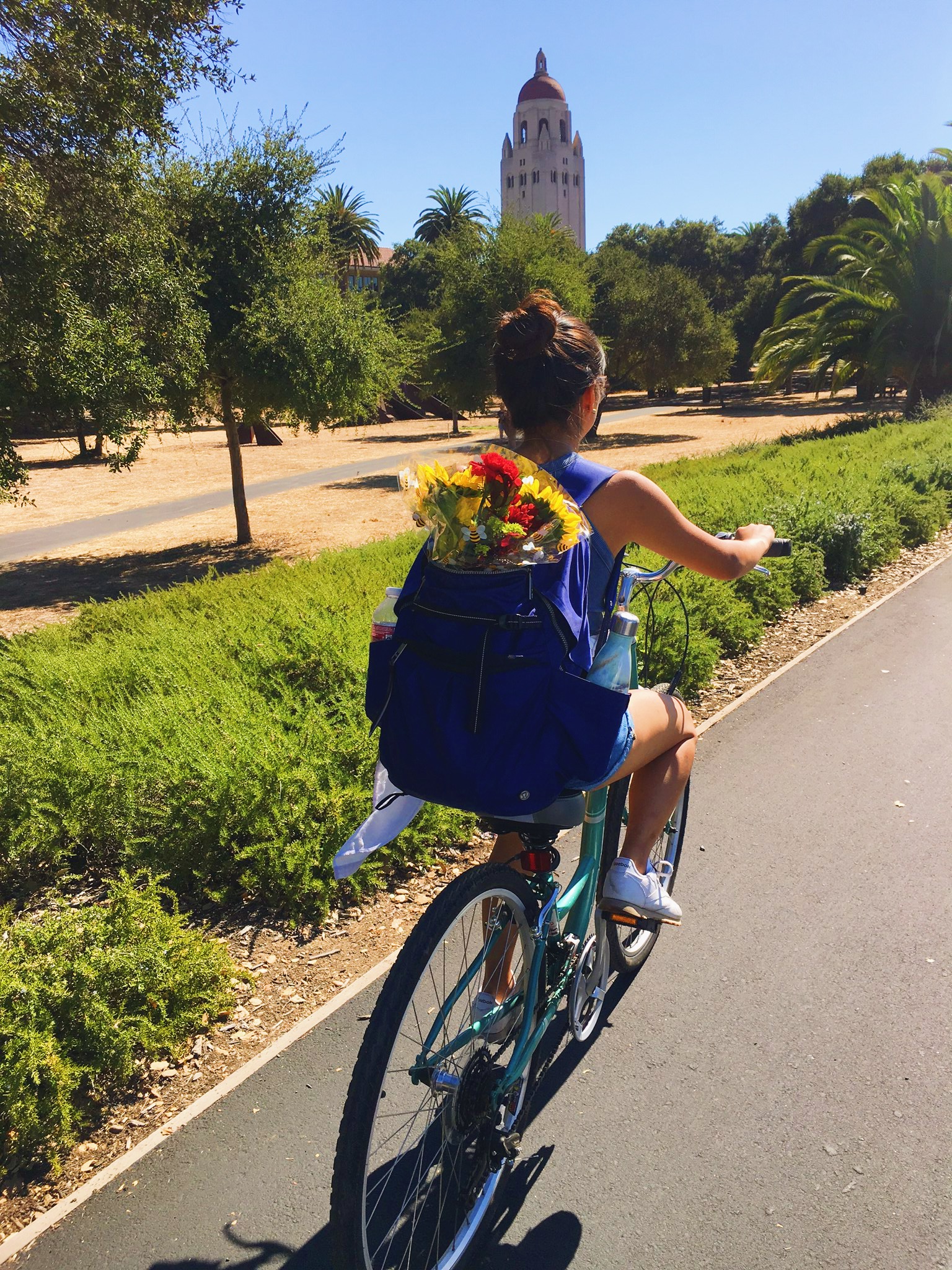 4. ON TRANSITIONING BACK TO SCHOOL
don't be afraid to repeat whatever you did in high school.
"REPEATING STUFF YOU DID IN HIGH SCHOOL ISN'T WEIRD AT ALL. In college, don't be afraid to repeat whatever you did in high school." ~ MINJI C.
"STAY ON TOP OF EMAILS FROM SCHOOL." ~ JESSICA G.
"Depending on what you want to study, DO A BIT OF PRACTICE for that. If you are going to do STEM, do some math. If you're going to be an English major, get back to reading in high volume." ~ NETHANIEL O.
"ASK FOR HELP! Everyone is around you to help and don't be ashamed... It takes a little time but it feels good to get back to it." ~ PIPER
"This goes to even non-gappers, but TAKE A LIGHT COURSE LOAD DURING YOUR FIRST QUARTER/SEMESTER. Doing so allows you to easily continue, in a way, what you did during your gap year: to EXPLORE what life has to offer, this time in an academic setting. I took a light course load during my first quarter, and it was the best decision I made, because I got to try so many new things."
~ JIYOUNG J.
"GET ENOUGH SLEEP. Read novels? There isn't much book-wise that you HAVE to do, but I suppose re-acclimating to reading words would help." ~ GLENDA
"REMEMBER HOW MUCH COLLEGE COSTS, AND CALCULATE that down to each hour of class." ~ MARIA M.
"I honestly FELT VERY READY for college--a gap year was absolutely the right decision for me but I didn't have a lot of structure for mine so I was looking forward a MORE STRUCTURED DAILY LIFE." ~ SOPHIE E.
"BE KIND TO YOURSELF with your first few big assignments." ~ RACHEL
"I had a difficult time bonding with my own year because I had already gone through most of the social/emotional/etc. lessons that they were just beginning to tackle. This doesn't mean taking a gap year means you'll have nobody to relate to, but I think it's a COMMON AMONG GAP-YEARERS TO FEEL MORE COMFORTABLE WITH UPPERCLASSMEN OR EVEN PROFESSORS."
~ ANONYMOUS
"BE PREPARED TO LIVE with people who WON'T HAVE THE SAME [degree of ] INDEPENDENCE you have. You will have to adjust to a routine and a schedule that isn't set by you." ~ REIN
"Definitely try to prepare by GETTING BACK INTO READING, WRITING, and possibly setting yourself up for a more structured schedule. It's definitely a bit of a shock to jump back into it right away." ~ MELANIE W.
"YOU WILL GET USED TO IT MUCH QUICKER than you'd expect. Maybe take a summer class before you come." ~ RAVI E-M.
"Many students start college in a new town, city, or state. I am starting school very far from my home. This has helped me shift my perspective. Instead of looking at it as going "back" to school - or back to normal after a year of adventure, I choose to look at it as a new adventure. I am going to be living in a new city, learning new things and meeting a completely new group of people. It's basically like I am still traveling." ~ NINA R.